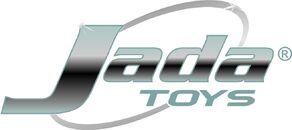 Jada Toys, Incorporated is located in Industry, California, U.S. This is a manufacturer of collectible die-cast model cars and RC vehicles ranging from 1:10 to 1:64 scale models.
It was founded in 1999 by married couple Jack and May Li. Jada's products are aimed at the collectible market, and they are not recommended or meant to be played with by younger children even though they attract younger audiences.
DUB City - Cars with custom rims, lowered ride height and special in-car entertainment systems. Dubs, so named for their 20-inch or bigger wheels, are among the company's best sellers and the most visible in retail outlets.
Street Low - American Lowrider cars.
Showroom Floor - Classic and modern cars in their unmodified form.
Homie Rollerz
Big Time Muscle - American Muscle Cars receiving the Pro-Touring treatment. Also from 2009 they offered an exclusive Chevy Stingray Concept.
Import Racer! - Customized Japanese sports cars. (Replaced by
the Option D! line.)
Option D! - Customized rear-wheel drive and all-wheel drive sports and race cars from and inspired by the Formula D Championship Series.
Initial D - Cars from the popular manga and anime franchise.
Fast and Furious - Cars from the popular movie franchise.
Donk, Box & Bubble - American cars with oversized wheels, raised ride height and special paint jobs.
D-Rod$ - Jada Toys' take on classic Hot Rods of the '20s, '30s and '40s.
High Profile - DUB City-treated pickup trucks and SUVs.
Von Dutch Kustom Cycles
Von Dutch Garage
For $ale - Classic and modern cars in faux dusty, unrestored condition.
VDub$ - Customized Volkswagen cars.
Kustom Kings - Classic '50s cars inspired by George Barris's custom designs.
Road Rigz - Custom Peterbilt 379 trucks with brand sponsored haulers.
Snap Shots - 1:64 scale cars packaged in mini-dioramas.
Speed Racer - Die-cast cars from and inspired by the classic anime series.
Jdm tuners - Die-cast cars based on popular Japanese models from the 70s' era to present day.
T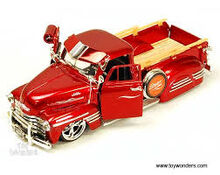 ransformers film.
'06 Camaro Concept - Painted yellow with black stripes, similar to Bumblebee from the movie.
achines - Die-cast cars from and inspired by the battle car themes.
Community content is available under
CC-BY-SA
unless otherwise noted.